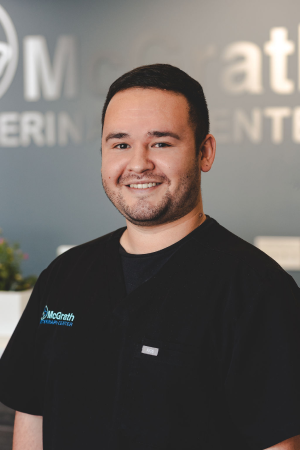 Michael Payan
Call Center Lead
Michael was born and raised in Los Angeles. His path to the vet field was unorthodox to say the least. Michael began at VCA Wilshire as a Receptionist but quickly realized he wanted to be more hands on and work directly with the animals. He moved away from Reception at Wilshire and got the experience from working Kennel which meant handling Medical Boarding pets, Sanitizing and assembling surgery kits and aiding when needed DVM's or techs. Did I mention he was able to work with exotics at Wilshire (Birds, Rodents, Reptiles etc).
After six months working kennel Micahel got an opportunity at VCA Lakewood to Train and later work as a VA, Surgery technician and Emergency Tech. After two plus years at VCA Michael decided to step away from Veterinary work for more financially fruitful opportunities.
After two years away from Vet Medicine Michael decided to take an opportunity at Mcgrath Veterinary center with the front desk team. Although that was not his first pick and took some time to adjust he is now the lead of our Call Center.
"Working in vet medicine and or with animals is all I would like to do. My dream job is as a Zoo Keeper or working with sea life at an aquarium or at sea. Although i stepped away from the field for a few years, I could never really stay away".