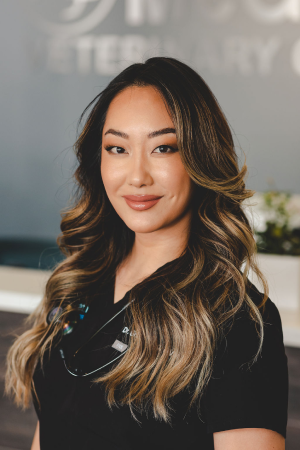 Grace Song, DVM
Veterinarian
Dr. Song is a California native who has always had a fascination with animals. Ever since childhood, after experiencing first-hand the beauty of the human-animal bond with her first family pet, a Chihuahua, she has wanted to be a veterinarian.
As an associate DVM, she continues to foster and advocate for this type of relationship between animals and humans. After obtaining her Bachelor's degree in Animal Science at UC Davis, Dr. Song went on to Michigan State University, where she earned her Doctorate of Veterinary Medicine. After graduating, she first worked at Banfield Pet Hospital before transitioning to relief work. Through her relief work, Dr. Song enjoyed working with a variety of teams at several different general practices and emergency hospitals in Southern California.
She is excited to join us at McGrath Veterinary Center (and we're excited to have her!). Dr. Song's special interests include surgery, emergency medicine, preventative care, and 'Doodles of all types. She is a mom to a Terrier mix named Opti (short for Optimus Prime) and a Goldendoodle named Bumblebee. She enjoys training at the gym, traveling, reading, listening to audiobooks, eating spicy food, and spending time with family and friends in her spare time.