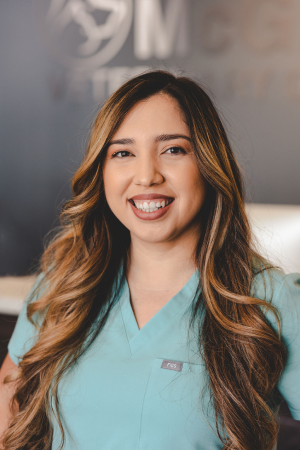 Vickie-Lynne Crisosto, RVT
Technician Manager
Vickie-Lynne Crisosto was born and raised in Los Angeles, CA. Her love of animals and science inspired her to pursue a Bachelor's degree in Biology at California State University Monterey Bay. During this time, she found a nonprofit called Science Learning and Exploration with the Help of Sea Lions, located at Moss Landing Marine Labs in Salinas, CA. During her time volunteering, she found her love for veterinary medicine and animal training. After working in the veterinary field for four years, she obtained her Registered Veterinary Technician License.
As part of the McGrath Vet Center team, she is excited to form lifelong relationships with pet patients and their beautiful humans. Her professional interests primarily include dentistry and animal behavior/training.
Vickie-Lynne's 4-legged family includes three well-behaved huskies, Brooklyn, Koda, and Yeti, and one special kitty who has been accepted into the pack named Dutchess. In her free time, she enjoys spending time outdoors with her fur-pups hiking, riding her bike, rock climbing, being with her loved ones, and always searching for the next national park to visit.