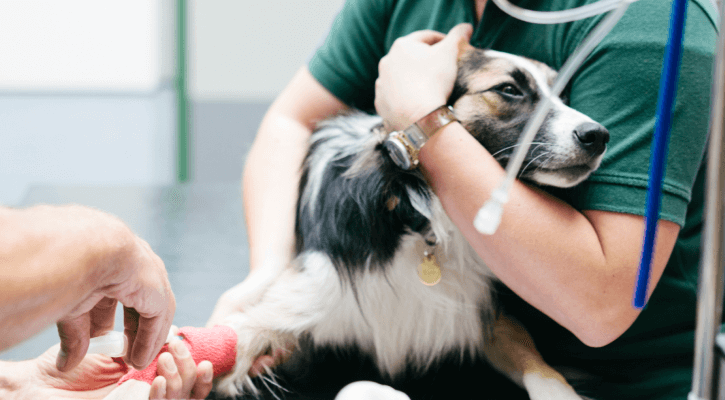 Surgery
As a full-service pet hospital, McGrath Veterinary Center offers more than just preventive and diagnostic services. Our doctors perform a wide range of soft tissue pet surgeries, including foreign body removal, spaying/neutering, cystotomies, and pyometra surgeries. Our facility is equipped with a modern, sterile surgical suite, complete with advanced technology and monitoring equipment to check vital signs. For the comfort of our patients, our suite also features heated tables and warming pads, as well as separate pet surgery preparation and recovery areas.
BEFORE YOUR PET'S SURGERY
We know that making a decision about surgery for your canine or feline friend can be an emotional time, but it doesn't have to be. The team at McGrath Veterinary Center is happy to answer any questions you have to ease your mind and make you more comfortable with the process.
On the day of surgery, we conduct a physical exam and pre-anesthetic blood work to be sure that no underlying health issues are present. If no issues are found, we prep your pet for surgery by attaching an IV catheter, which is used to administer fluids, pain medication, and anesthesia. We administer the anesthesia at this time and shave the fur where incisions will be made to sterilize the skin. When your pet is fully prepped for surgery, he/she is moved to our sterile surgical suite.
While in the surgical suite, we set up all the required monitoring equipment on your pet to monitor his/her heart rate, blood pressure, pulse oximetry, and breathing. We monitor all patients' vitals during every stage of surgery.
AFTER YOUR PET'S SURGERY
When your pet's surgery is complete, we gradually reduce the supply of anesthesia and move them to our temperature-controlled surgery recovery area. We then contact you with an update on your pet's status and let you know that your four-legged friend is ready to be picked up. Upon your arrival, we provide detailed instructions on how to care for your pet at home and what to expect. Our goal is to help your dog or cat recover as safely and quickly as possible so he/she can go back to chasing Frisbees or watching birds! Please feel free to ask us any questions you have about your pet's post-operative care. The McGrath Veterinary Center team is always happy to help.