Brian McGrath, DVM
Veterinarian/Owner
Dr. Brian McGrath is a second-generation veterinarian who grew up in a veterinary hospital (his father is a veterinarian in Boston). He earned his Doctorate of Veterinary Medicine from Tufts University School of Veterinary Medicine. After graduation in 2003, he completed a rotating internship in small animal medicine and surgery at VCA West Los Angeles, where he stayed until joining the team at Malibu Coast Animal Hospital in 2010. In 2016, he made another transition and opened his own practice in Sherman Oaks, McGrath Veterinary Center. Dr. McGrath has experience in emergency medicine, general medicine, and surgery. Throughout his career, Dr. McGrath has had many memorable experiences in the field, including when he volunteered in New Orleans after Hurricane Katrina. He loves that his position as a veterinarian allows him to make long-lasting connections with pets and their owners. He also enjoys helping sick or injured animals and strengthening the human/animal bond. Dr. McGrath and his wife, Lei, have a daughter named Ava, a son named Jax, and a set of twins, Andrew and Joseph! They also have a Labrador retriever named Brady. He enjoys going to the beach, hiking, and just being outdoors with his family and pets in his spare time.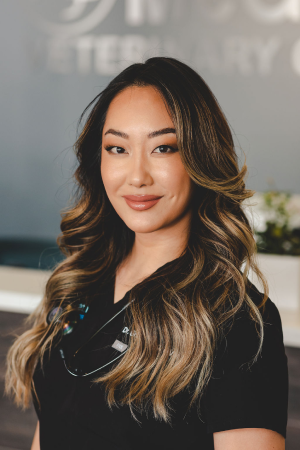 Grace Song, DVM
Veterinarian
Dr. Song is a California native who has always had a fascination with animals. Ever since childhood, after experiencing first-hand the beauty of the human-animal bond with her first family pet, a Chihuahua, she has wanted to be a veterinarian.
As an associate DVM, she continues to foster and advocate for this type of relationship between animals and humans. After obtaining her Bachelor's degree in Animal Science at UC Davis, Dr. Song went on to Michigan State University, where she earned her Doctorate of Veterinary Medicine. After graduating, she first worked at Banfield Pet Hospital before transitioning to relief work. Through her relief work, Dr. Song enjoyed working with a variety of teams at several different general practices and emergency hospitals in Southern California.
She is excited to join us at McGrath Veterinary Center (and we're excited to have her!). Dr. Song's special interests include surgery, emergency medicine, preventative care, and 'Doodles of all types. She is a mom to a Terrier mix named Opti (short for Optimus Prime) and a Goldendoodle named Bumblebee. She enjoys training at the gym, traveling, reading, listening to audiobooks, eating spicy food, and spending time with family and friends in her spare time.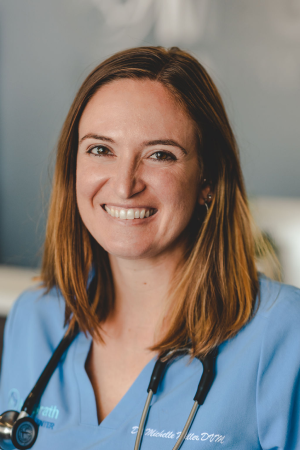 Michelle Miller, DVM
Associate Veterinarian
Dr. Michelle Miller is a graduate of Ross University School of Veterinary Medicine. She spent a year at Texas A&M School of Veterinary Medicine for her clinical rotations. Dr. Michelle Miller received a bachelor's degree in Biology with a minor in Math from Loyola University Chicago. A native of Santa Clarita, CA, she pursued veterinary medicine due to a strong passion for advocacy and the well-being of animals. Her favorite part of veterinary medicine is building long-lasting relationships with clients and patients and watching her patients grow and thrive. She believes strongly in doing what she can to improve their quality of life. In her spare time, Dr. Michelle Miller enjoys hiking, biking, and running. She also enjoys spending time with her dog Fitz, an Aussie mix.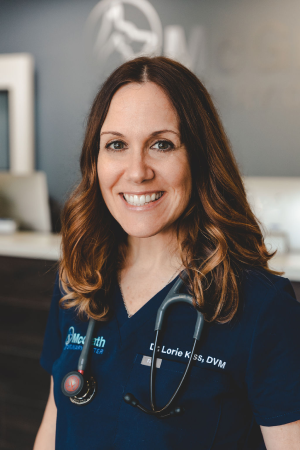 Lorie Kiss, DVM
Since childhood, Dr. Kiss has had a profound love of animals and she realized at a very early age that she wanted to become a veterinarian. Born and raised in New York, she decided to leave the snow behind and relocated to southern California in 2010. She attended Marist College in upstate New York where she received her Bachelors of Science in Biology, followed by her Doctor of Veterinary Medicine from St. Georges University in 2010. Dr. Kiss's interests include internal medicine, ophthalmology, and working with rescue groups helping foster homeless pets until finding them a perfect home. Dr. Kiss is happily married with 3 small children and two rescue dogs named Peanut Butter and Finley. Whenever time permits, she enjoys trying new restaurants and anything involving the great outdoors including camping, hiking, bike rides, or a relaxing day at the beach.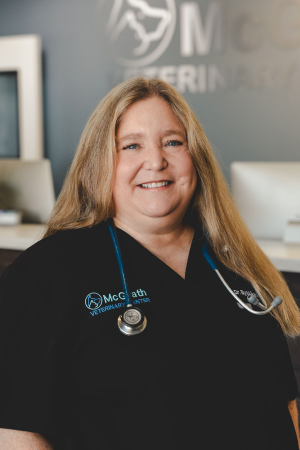 Elysa Braunstein, VMD
Dr. Braunstein completed her undergraduate studies at the University of Pennsylvania. After graduation, she went on to attend graduate school at UCSF, where she earned a degree in molecular biology. She then completed an internship at California Animal Hospital (what is now ASEC) to learn more about her passion for surgery. We are thrilled to welcome Dr. Braunstein to the practice.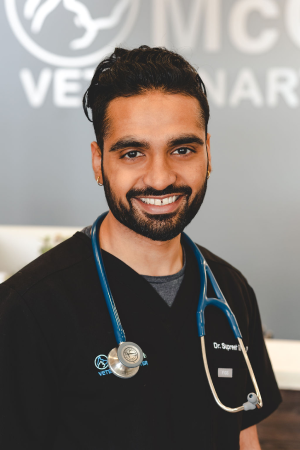 Supreet Dhillon, DVM
Bio coming soon.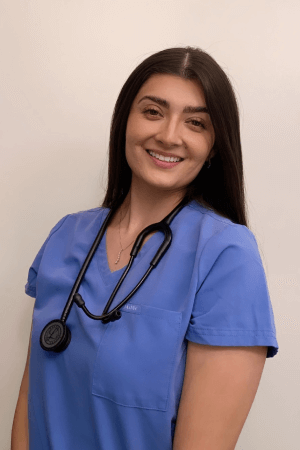 Rubie Medina, DVM
Like most individuals in this field, Dr. Medina took an interest in animals at a very early age. It was her wonderful chow chow mix, Harley, her greatest companion for 17 years, who was her driving force in pursuing a career in veterinary medicine.
Dr. Medina is a California native born and raised in Los Angeles. She completed her Bachelors of Science in biology pre-med at the University of La Verne before heading off to the West Indies where she lived on the beautiful island of St. Kitts while earning her Doctorate of Veterinary Medicine at Ross University. She returned stateside completing her clinical year at the University of Florida (Go Gators!). She is excited to be back home and happy to be part of the team here at MVC.
Dr. Medina has a special interest in surgery, integrative medicine, and exotics. She has two babies, her adorable kitty, Truly, and her sweet dog, Babycakes. She also keeps busy by tending to her 25+ plant collection regularly. In her down time, she enjoys trying new restaurants, traveling, and enjoying nature.