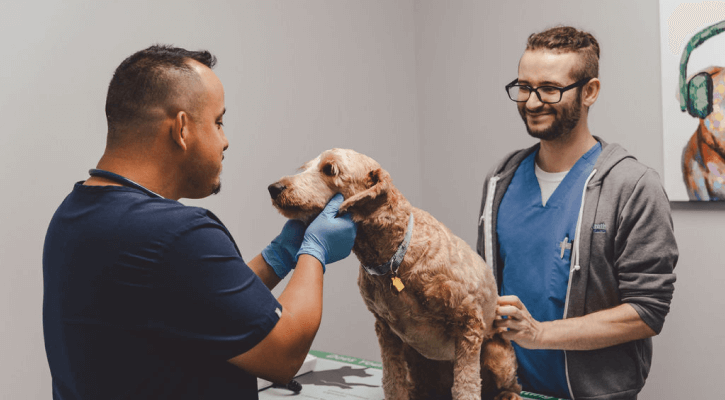 Diagnostics
McGrath Veterinary Center has a full range of advanced diagnostic services available to examine pets internally. We offer digital radiography (pet X-rays), pet ultrasound, and in-house laboratory testing with same-day results. To ensure that we provide the most accurate diagnoses, we often combine these services together. Our modern diagnostic equipment is just one of the many ways that we provide pets with advanced veterinary care, allowing them to receive treatment in a timely manner.
DIGITAL PET X-RAYS
We use our digital X-ray unit to examine pets' bones, organs, and other internal structures to detect fractures, foreign bodies, and other conditions. With our digital dental X-ray unit, we can also detect gum disease, a condition that affects more than 50% of dogs and cats over the age of 3. Digital X-ray technology is one of the most common diagnostic tools in veterinary medicine, and it provides a number of benefits to pets and to Dr. McGrath, including:
Immediate image production
No need for harsh development of chemicals
Images are clear and detailed, aiding in more accurate diagnoses
Images can be easily enhanced and shared digitally
PET ULTRASOUND
Similar to human ultrasound, pet ultrasound uses sound wave technology to examine the shape, size, and tissue density of a pet's internal organs in real-time. It's commonly used to detect pregnancy, but can be used to detect other conditions as well.
IN-HOUSE LABORATORY
For the conditions that can't fully be detected with X-rays or ultrasound technology, we rely on laboratory diagnostic services. Our in-house pet laboratory is used to perform several microscopic tests, including fecal exams, blood tests, and urinalyses. The results of these tests aid in the diagnosis of various health conditions such as heartworm, hyperthyroidism, and diabetes. Lab testing allows us to detect these and other conditions in their early stages, providing treatment sooner and increasing the chances of successful treatment and recovery.
EXTERNAL DIAGNOSTICS
For cases that require more in-depth diagnostics, MVC offers additional tests through Antech and Idexx Laboratories with daily pickups and speedy results.
Feel free to give us a call at 818-796-4550 if you think your pet is in need of X-rays, an ultrasound, or laboratory testing at McGrath Veterinary Center.