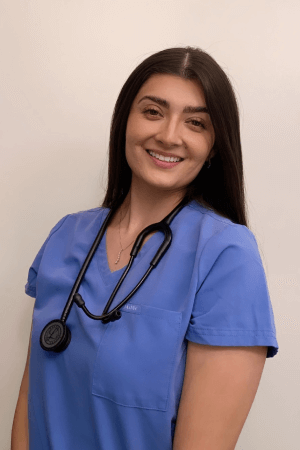 Rubie Medina, DVM
Like most individuals in this field, Dr. Medina took an interest in animals at a very early age. It was her wonderful chow chow mix, Harley, her greatest companion for 17 years, who was her driving force in pursuing a career in veterinary medicine.
Dr. Medina is a California native born and raised in Los Angeles. She completed her Bachelors of Science in biology pre-med at the University of La Verne before heading off to the West Indies where she lived on the beautiful island of St. Kitts while earning her Doctorate of Veterinary Medicine at Ross University. She returned stateside completing her clinical year at the University of Florida (Go Gators!). She is excited to be back home and happy to be part of the team here at MVC.
Dr. Medina has a special interest in surgery, integrative medicine, and exotics. She has two babies, her adorable kitty, Truly, and her sweet dog, Babycakes. She also keeps busy by tending to her 25+ plant collection regularly. In her down time, she enjoys trying new restaurants, traveling, and enjoying nature.